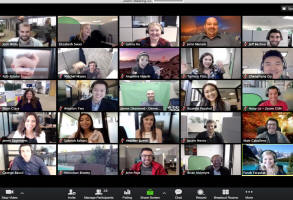 Strategos Online Training
For some topics, these seminars work well and the format may even be better than an onsite classroom approach. Some advantages are:
Social Distancing Maintained
New Concepts Have Time To Gestate
Learning Teams Attack Real-Life, Relevant Projects
Team discussions, Exercises and Projects Increase Motivation
Instructor guides, Coaches, & adjusts the pace and content as required.
Schedule Is Flexible
Content Is Flexible
Unlike canned lectures or self-paced programs, this format provides real-time interaction with colleagues. It also provides structure and a schedule. It maintains interest and discourages procrastination.
Additional Benefits
Real Life Projects

Multiple Locations
How It Works
Learning Teams
We divide the participants into learning teams of 3-5 persons. Teams then work together for exercises, discussion and team projects.
Activity Cycle
1) A cycle starts in the virtual classroom with all participants. The instructor presents material, answers questions and facilitates short exercises.
2) Each learning team has homework assignments consisting of exercises or a project from the participant's work area. Teams submit assignments before the next online session.
3) The instructor reviews assignments and debriefs at the next session.
Arrange A Workshop
Three Easy Steps
Successful training starts with "learning objectives" and an "audience analysis." The issues are not always self-evident, but we can help you clarify them with with a few relevant questions.
| | |
| --- | --- |
| | Call us for an exploratory conversation. We will ask some basic questions about your situation, objectives and the proposed participants. We will also discuss possible formats and content. |
| | Review our proposal. We will email a proposal in a day or so. It may be exactly what you want. Or, it may be a basis for further discussion between us or with your colleagues. If and when you are ready we... |
| | Set the dates. You can suggest some possible dates; we fit these with our upcoming schedule. We can usually find mutually dates within the following 2-6 weeks. |
Call us today at 816-931-1414 ( or send an email) to explore needs, options and costs. Then, you can decide if Strategos will be right for your people and your situation.
Available Online Programs
(Click For Details)