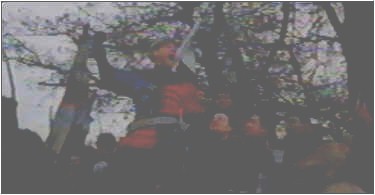 Several attempts to bring Shakespeare's Henry V to the screen have been made. Only the 1989 version, starring and directed by Kenneth Branagh has been commercially successful. It is a marvelous and stirring film with a strong anti-war sentiment. This synopsis focuses on parts of the story related to leadership. It omits various sub-plots and other themes.
Leadership Synopsis
In the opening scenes, a young King Henry has recently ascended to the throne of England. He has reason to believe there is a lawful reason to unite England and France under one ruler, himself. Henry's youthful escapades have brought him a reputation as a lightweight playboy. The Dauphin of France sends a scornful joke-gift in the form of tennis balls. Henry responds:
When we have march'd our rackets to these balls,
We will, in France, by God's grace, play a set
Shall strike his father's crown into the hazard...
...So get you hence in peace; and tell the Dauphin
His jest will savour but of shallow wit,
When thousands weep more than did laugh at it.
A plan is conceived to invade France. After a minor sub-plot involving traitors, action proceeds to the small town of Harfleur in France. Henry leads his forces "from the front" and takes the town. He orders his men to treat the residents as English-- there is to be no pillaging or stealing. A boyhood friend is caught stealing and Henry hangs him for the offense. Dysentery plagues the town and Henry marches his main force towards Calais with the intent of returning to England. The French forces intercept Henry at Agincourt. The English are heavily outnumbered, sick, tired and despondent. The French call for a surrender and ransom. Henry responds:
We are but warriors for the working-day;...
...But, by the mass, our hearts are in the trim.
...We would not seek a battle, as we are;
Nor, as we are, we say we will not shun it:
Act 4, Scene 3
WESTMORELAND
O that we now had here
But one ten thousand of those men in England
That do no work to-day!
KING HENRY
What's he that wishes so?
My cousin Westmoreland? No, my fair cousin:
If we are mark'd to die, we are enow
To do our country loss; and if to live,
The fewer men, the greater share of honour.
God's will! I pray thee, wish not one man more.
Rather proclaim it, Westmoreland, through my host,
That he which hath no stomach to this fight,
Let him depart; his passport shall be made
And crowns for convoy put into his purse:
We would not die in that man's company
That fears his fellowship to die with us.
This day is called the feast of Crispian:
He that outlives this day, and comes safe home,
Will stand a tip-toe when the day is named,
And rouse him at the name of Crispian.
He that shall live this day, and see old age,
Will yearly on the vigil feast his neighbours,
And say 'To-morrow is Saint Crispian:
Then will he strip his sleeve and show his scars.
And say 'These wounds I had on Crispin's day.
Old men forget: yet all shall be forgot,
But he'll remember with advantages
What feats he did that day: then shall our names.
Familiar in his mouth as household words
Harry the king, Bedford and Exeter,
Warwick and Talbot, Salisbury and Gloucester,
Be in their flowing cups freshly remember'd.
This story shall the good man teach his son;
And Crispin Crispian shall ne'er go by,
From this day to the ending of the world,
But we in it shall be remember'd;
We few, we happy few, we band of brothers;
For he to-day that sheds his blood with me
Shall be my brother; be he ne'er so vile,
This day shall gentle his condition*:
And gentlemen in England now a-bed
Shall think themselves accursed they were not here,
And hold their manhoods cheap whilst any speaks
That fought with us upon Saint Crispin's day.
--William Shakespeare
* make him a member of the gentry, even if he is a commoner